ArtCast featuring Charo Oquet of edgezones.org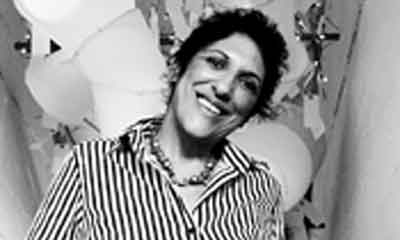 Charo Oquet (picsource)
Today you will hear the conversation
Barbara had in Basel with
Charo Oquet
. She's an artist, born in the Dominican Republic, living in Miami and running the independent art space called
edgezones
there. Charo reflects on the influence
the Art Basel Miami Beach
has on the town it takes place in - Miami Beach (the "sister artfair" of Art Basel). Charo sees Miami as a magical place, where many different carribean cultures flow together to form new artistic expressions in art and music, a place that's new and different every day. The "
Miami New Times
" wrote about her:
Dominican Charo Oquet is a well-known Miami artist with a gift -- she is a master facilitator. Since 2003, as Edge Zones director, Oquet has presented a series of important shows at the World Arts Building in Wynwood. Numerous Miami artists have been featured in these collective exhibits. In addition, for the past four years she has initiated exchanges among some of Miami's best talents through exhibitions such as "Miami: Tierra Caliente" at the Fourth Caribbean Biennale in Santo Domingo (co-curated with Genaro Ambrosino), among other efforts. Just recently Edge Zones, Oquet's nonprofit organization, was invited to ARCO 2004, the annual contemporary art fair in Madrid. Warm, upbeat, and committed, the 52-year-old Oquet is an activist with big plans for Miami.
comments
No new comments allowed (anymore) on this post.